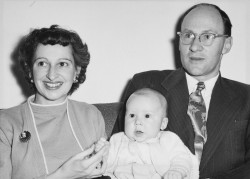 1956-67
Robert Pope was born in Halifax, Nova Scotia in 1956, the eldest of three children. His father William was a United Church minister, his mother Isabel was a book keeper and teacher. William was a restless, energetic man who gave up the ministry to buy a small town newspaper, the Wolfville Acadian, a venture which folded after one year. Isabel was a meticulous and thoughtful person, with great empathy for other people. As a team, the parents were hard working and driven to do public good. In these years, there were many family trips by car: most notably a drive to Montreal to see Expo 67, and countless drives around the Maritime provinces as William collected ads for a tourist guide book.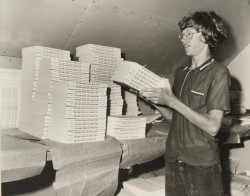 1968
Robert moved to Windsor, Nova Scotia where his parents founded a home for seniors, the Windsor Elms, and became the first managing directors. In their spare time, William and Isabel started their publishing business, Lancelot Press in the loft of the family home, a renovated coach house located behind the seniors' home. As a teenager Robert worked in the publishing business, putting books together with the aid of some rather primitive equipment. For fun, Robert played tennis and ping pong. He founded a ping pong club at his high school and signed up 50 paying members. Robert loved comics and tried making his own crude strips.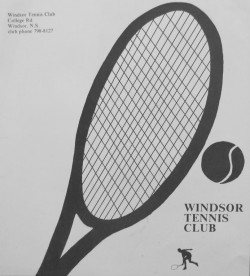 1970
Robert takes art lessons from a neighbour, Betty Parsons, who had just returned home from studying art in England. The teacher encouraged Robert to pursue art more seriously, which leads to taking a correspondence art course from the Washington School of Art. The course takes two years to complete. Robert teaches himself calligraphy and makes signs for clients such as the Windsor tennis club, of which he is an avid member. He also designs the logo for the town's centenary celebration, a commission from a local mortgage company.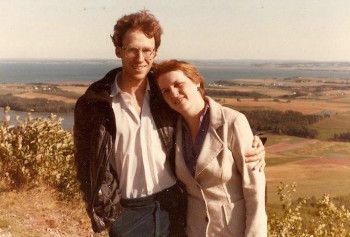 1972-75
Robert excels in all subjects at school, and enrolls at Acadia University on a math scholarship. Halfway through his studies, he announces he wants to become an artist. He is persuaded by his father to finish his science degree. This is the seed of one of Robert's most enduring themes: that of duality, as he sees his nature being torn between a methodical, logical side and an imaginative, intuitive side. Robert hosts a radio program on the campus station, the start of a life-long interest in music and popular culture. Robert meets Heather McKinnon, a student from Cape Breton, who shares his love of music. Robert and Heather travel by car to Calgary, where they take part-time jobs in the summer.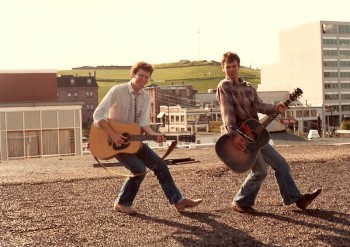 1976
Robert moves to Halifax with his childhood friend, Terry Blakeney. Terry works as a musician, while Robert becomes a free-lance commercial artist. Robert takes a silk-screen course and produces prints which he sells outside the Public Gardens along with other craft vendors. Robert's most important client is his father, who commissions him to illustrate books and design book covers. By the end of the year, Robert is unhappy with his commercial art career and decides to go back to school for further study.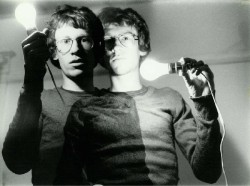 1977-1981
Robert enrolled in the Fine Arts program at the Nova Scotia College of Art and Design (NSCAD). It is an eye-opening experience for Robert, as he is introduced to Conceptual Art. He makes his first trips to New York with class friends, and describes the city as "ugly with energy." At NSCAD, Robert bonds closely with other painting students. Robert rents a studio above the Seahorse Tavern with his friend Sean McQuay. Later Robert and Sean rent an unheated building on Sackville Street where they are joined by Alex Livingston, Glenn MacKinnon and other artists. Friendly rivalries accelerate their artistic development. The artists travel abroad for short periods and meet up in foreign cities, but stay connected through the exchange of letters and cartoons. Through this period, Robert deepens his relationship with Heather Mackinnon. They live together briefly, but their romance is largely a long-distance affair, while Heather finishes her studies in Wolfville, and the relationship suffers from the strain.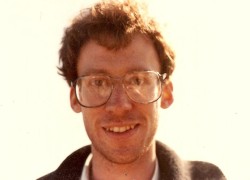 1982
Robert took part in two art exhibitions, his graduating show at NSCAD, "Oppositions," at the Anna Leonowens Gallery and "Three Artists," a group show at Eye Level Gallery, a parallel gallery located in the same building complex as his Argyle Street studio. Between the two exhibitions is an event that changed Robert's life: he was diagnosed with Hodgkins' Disease, a cancer of the lymphatic system. It is not considered one of the deadlier cancers, but Robert receives a late diagnosis: his cancer is well established. He immediately receives chemotheraphy treatments. He loses weight and moves back home to recuperate, though home has relocated to Hantsport and his parents are now full-time publishers living in the country.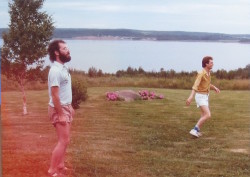 1983-84
Robert joins the Macrobiotics East group and changes his diet. During his recovery, Robert watches classic Hollywood films. He is impressed by how well these films connect with audiences, as opposed to contemporary art which is so difficult for audiences to understand or enjoy. Robert begins posing friends and models in dramatic settings using artificial light to create different moods and to tell stories in his paintings. His principle model is fellow artist Sean MacQuay, who is Robert's opposite in every way. Sean is easy-going, charismatic, the class clown, prodigiously talented but someone who would do anything before settling down to work. Sean poses for four paintings, including Harbour and The Conversation.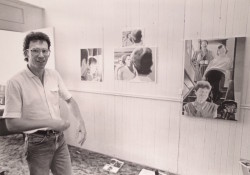 1985-86
Robert gains confidence in his new approach to painting, using posed models. His use of symbolism and allegory increases with images such as The Conversation and Shifting Weather. He takes part in two group exhibitions, "Innova Scotia," at the Art Gallery of Nova Scotia, 1985-86, and "Visual Facts," at the Dalhousie Art Gallery, 1986. Art dealer Ineke Graham, owner of the Halifax-based gallery Studio 21, agrees to represent Robert and the two embark on a successful partnership that lasts to the end of Robert's life. In 1986, Robert's cancer recurs and he goes to Toronto for radiation treatments. His mother Isabel goes with him to prepare his Macrobiotic meals. Robert makes his first hospital sketches at this time.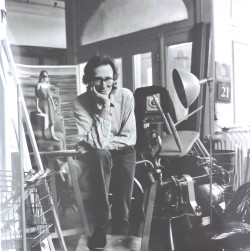 1987-1988
Robert is given the book, By Grand Central Station I Sat Down and Wept by close friend and poet Joanne Light. He begins work on a new painting series based on this book. Joanne later recalled: "I think both Robert and I were in the throes of emotional upheavals over relationships. I wasn't sure about him but I knew I was experiencing an uncomfortable Adele Hugo period, which didn't seem to be ending but, au contraire, regressing into the dark recesses of infantile romantic insanity. I gave Robert my copy of By Grand Central Station I Sat Down and Wept by Elizabeth Smart, which I had just discovered, devoured and relished for her emotional intensity regarding obsessive love, which recounted destructive act upon destructive act, what I was inflicting upon myself. This book became the skeleton on which Robert fleshed out and hung his first major exhibition "A Seal Upon Thine Heart" in 1987." Robert meets two remarkable people, Heather Pitt, a teacher, and Dale Gorviat, a professional model, who agree to pose for an extensive series of images. Robert poses the models in his studio, then adds scenic backgrounds. It's the first time since Harbour that he has placed figures in landscapes. The series also marks his first engagement with mythological and Christian symbols.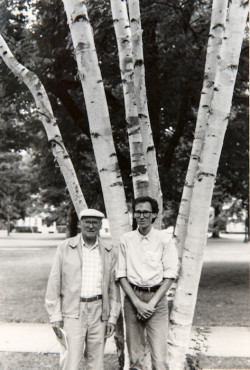 1989
Robert begins work on his series "Accident," which centers around an unnamed traumatic incident involving cars and wharfs. The artist works with a wider range of models than ever before and paints his first crowd scenes, Accident and Community. Robert includes his parents in two paintings, Journey and Passing Cars. He moves towards a more autobiographical statement. Robert is intensely involved in Macrobiotics and travels to Toronto, Boston and Miami to consult with two leaders in the field of natural healing, Wayne Diotte and Mishio Kushi.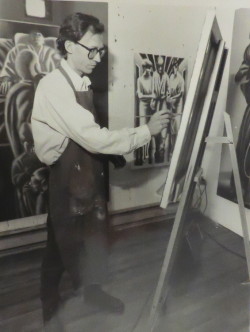 1990-1992
Robert begins work on his "Illness & Healing" series. It is conceived jointly as a book and as a series of paintings exhibited at Dalhousie University Art Gallery in 1991. Robert's entire family are involved in the book project, posing for pictures, editing text, taking photos, raising money through mail order campaigns before the book's release. Robert's father buys a new printing press that enables him to print pages in full colour. Robert's cancer doctor, Ross Langley is consulted about the book. He is fully supportive and gives Robert a white coat and recommendations that give the artist access to all areas of the hospital.
Many of Robert's former nurses and caregivers also get involved, as well as other patients and their families. Robert designs the book, does all the illustrations and writes the text. He is also heavily involved in every stage of the book's production. The book wins the Evelyn Richardson Award for the best non-fiction Nova Scotia book for 1991. The art exhibition at Dalhousie is no less ambitious. It is a large gallery, but Robert has produced more work than the space can hold so he stages a second exhibition centered on drawings, at Studio 21. Robert wants a large life-size drawing to be the centerpiece for this show, and this leads to his drawing, Aesculapius. Robert is exhausted by the work putting together the book and exhibitions. He does a small series of flower paintings as a change of pace. Over the Christmas holidays, his family notice that his skin has a yellowish tint: there is something wrong with his blood. Robert is admitted to hospital. His flower paintings are hung on the walls of his hospital room. Within a week, shortly after the new year, Robert is dead. He has not died of cancer but of the side effects of his treatment. There is a large funeral in Halifax, attended by many in the arts community.